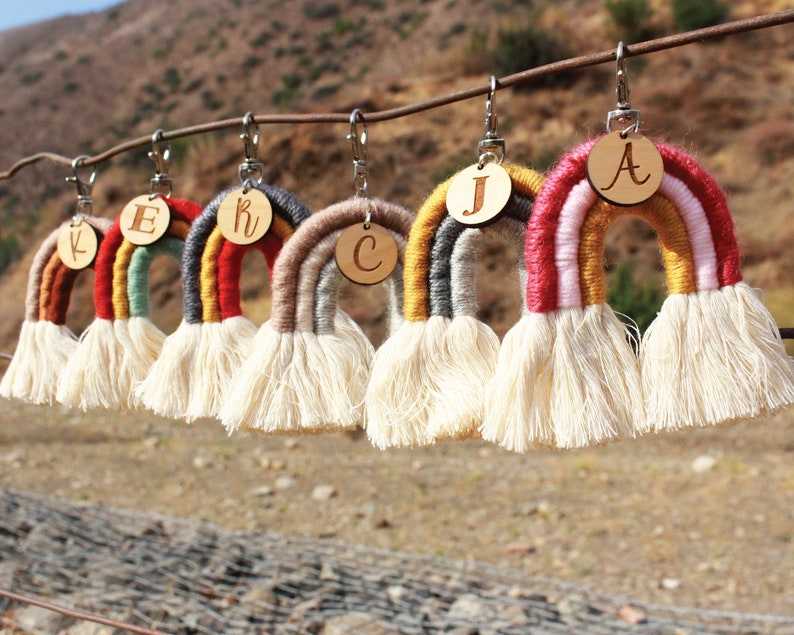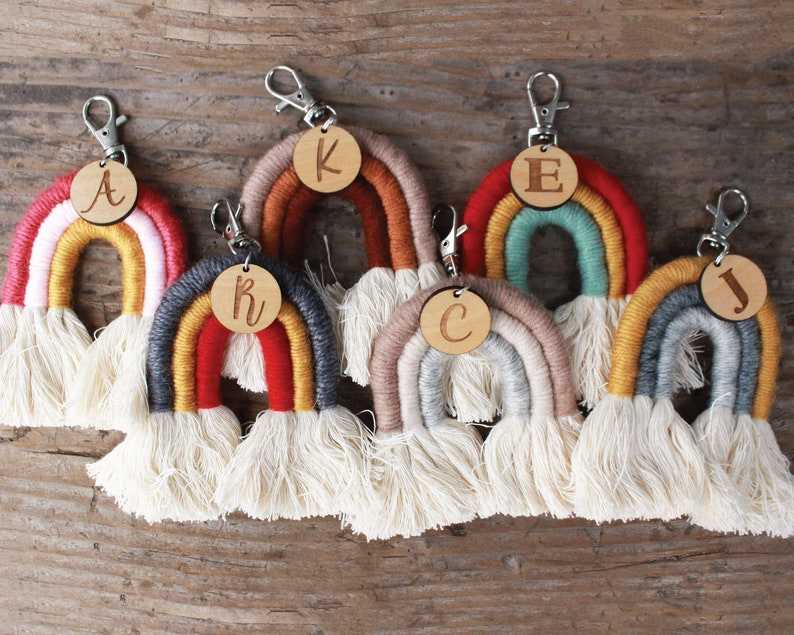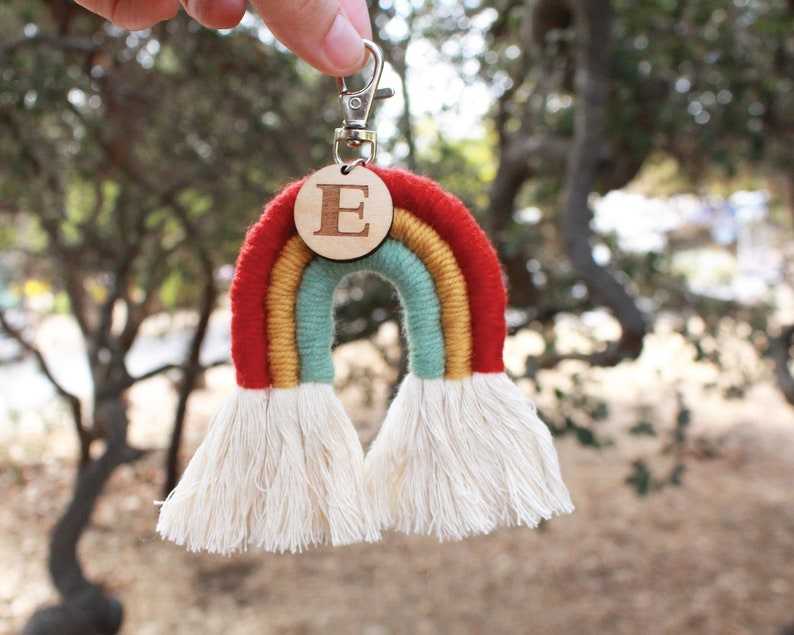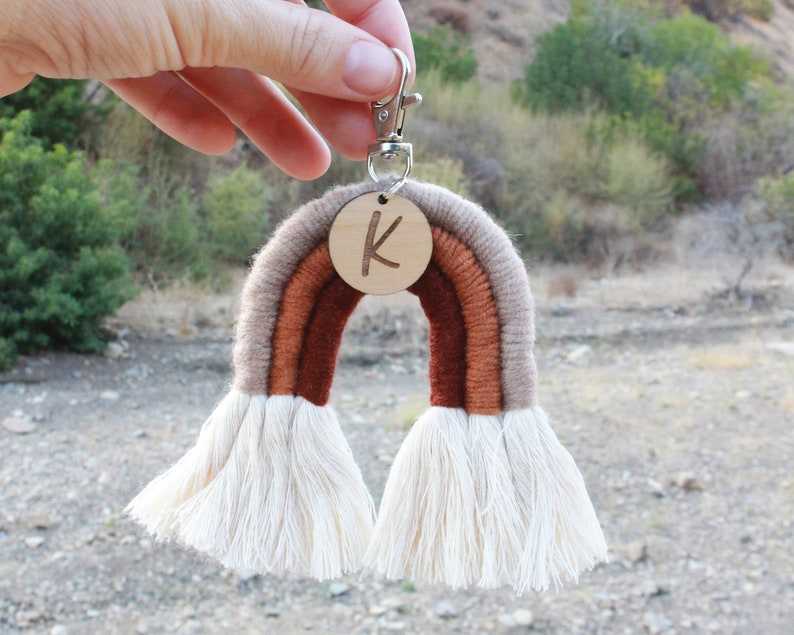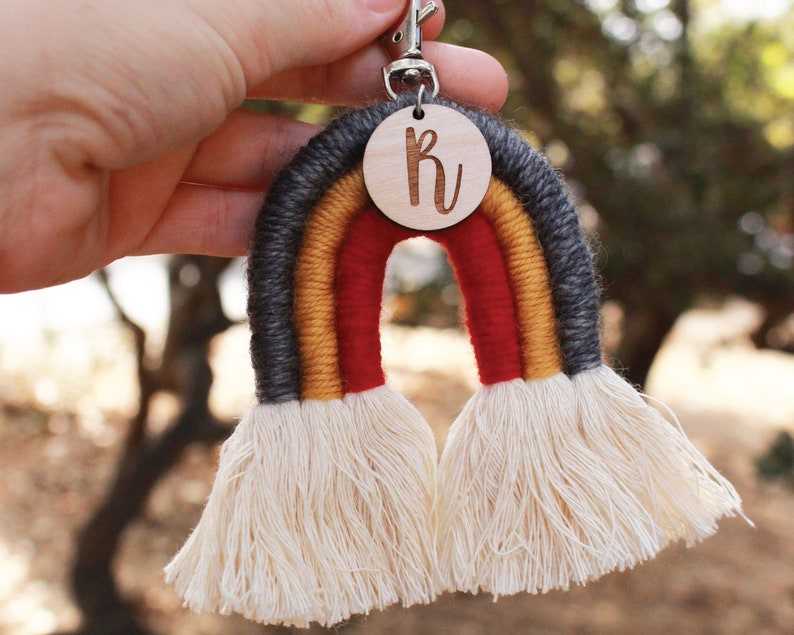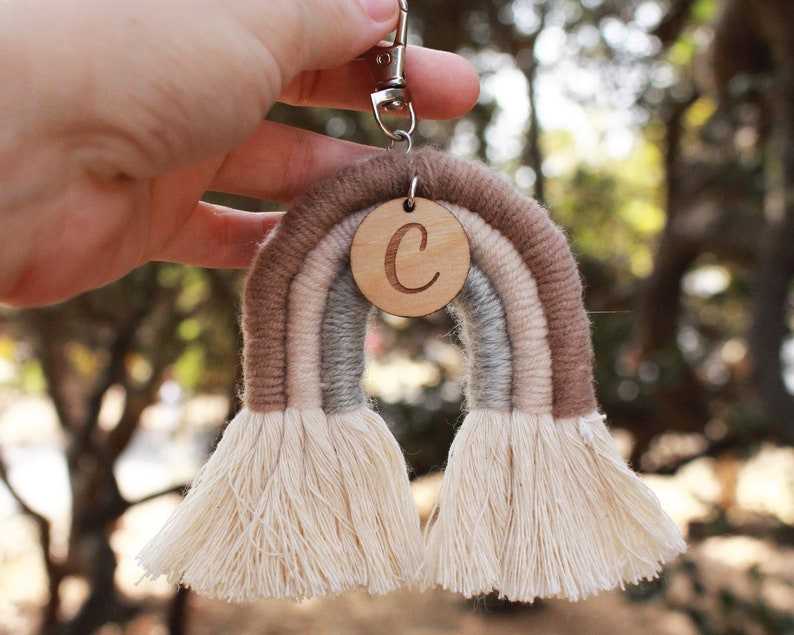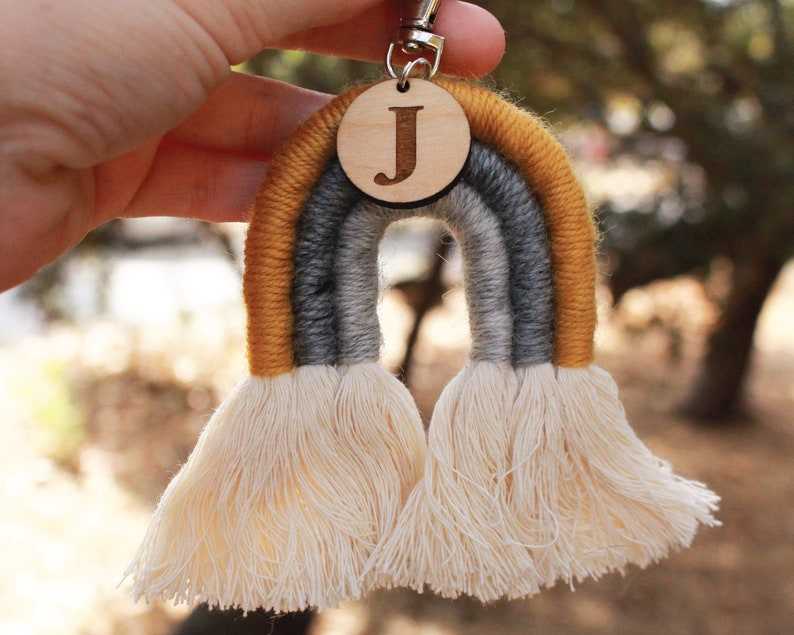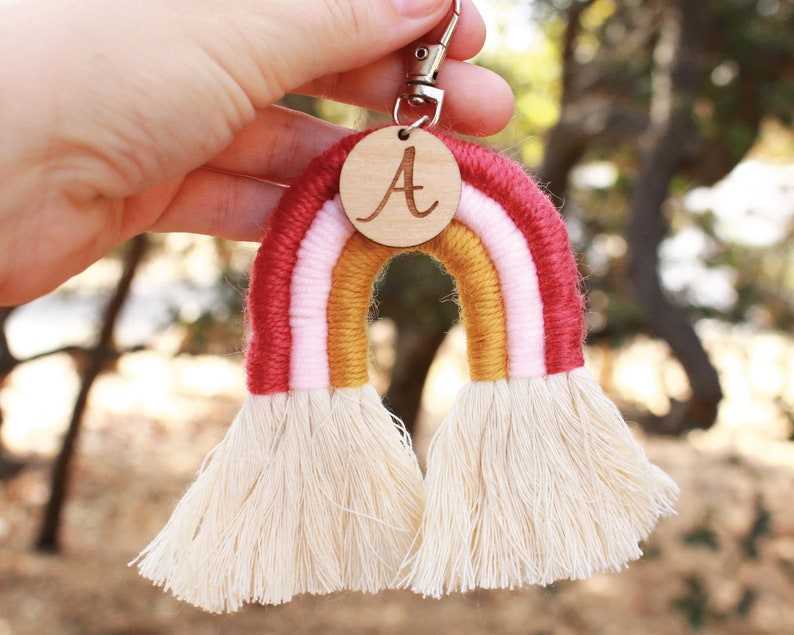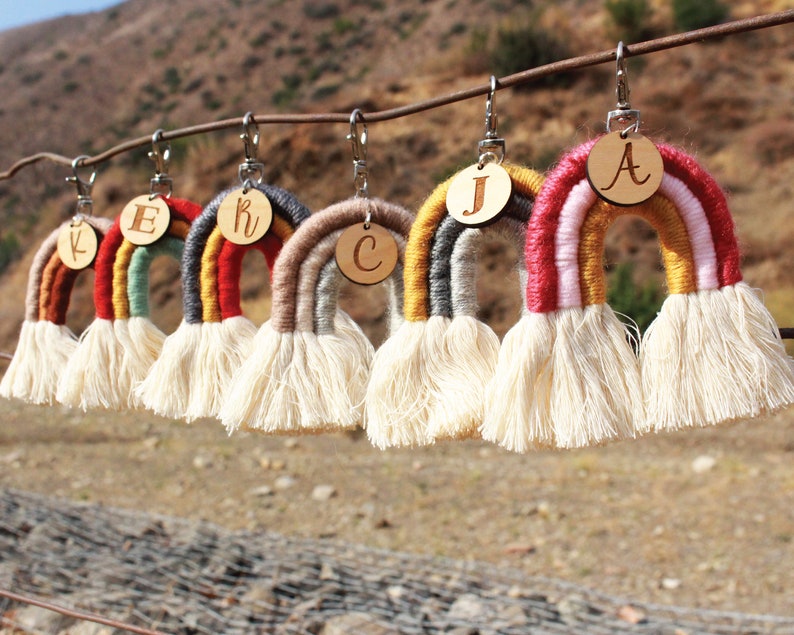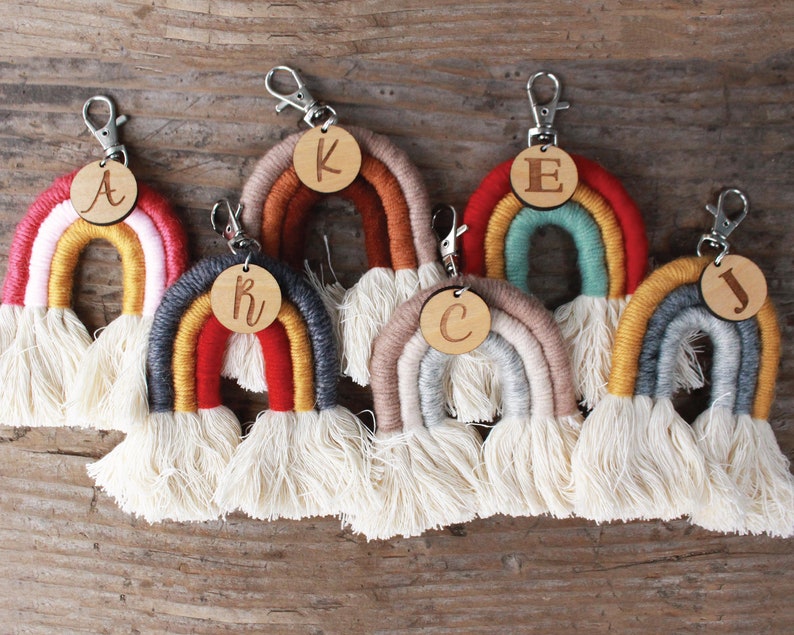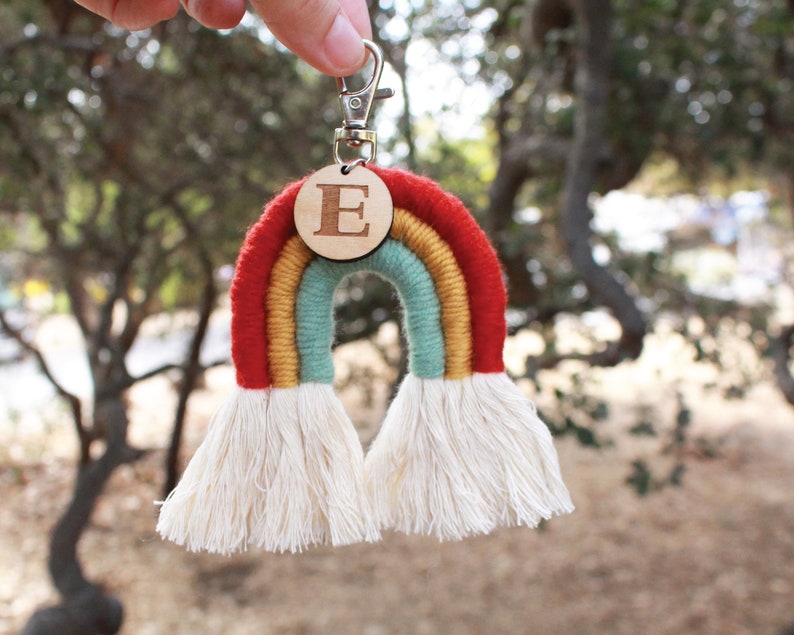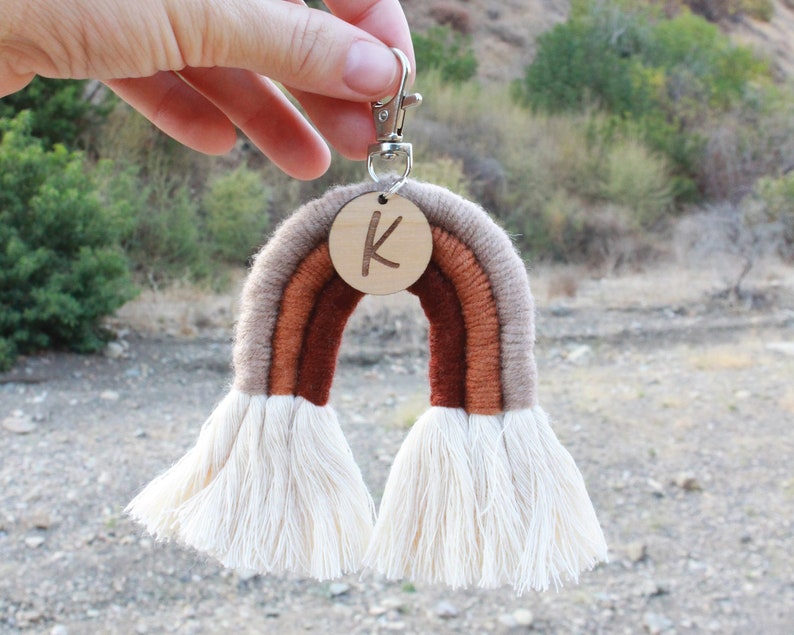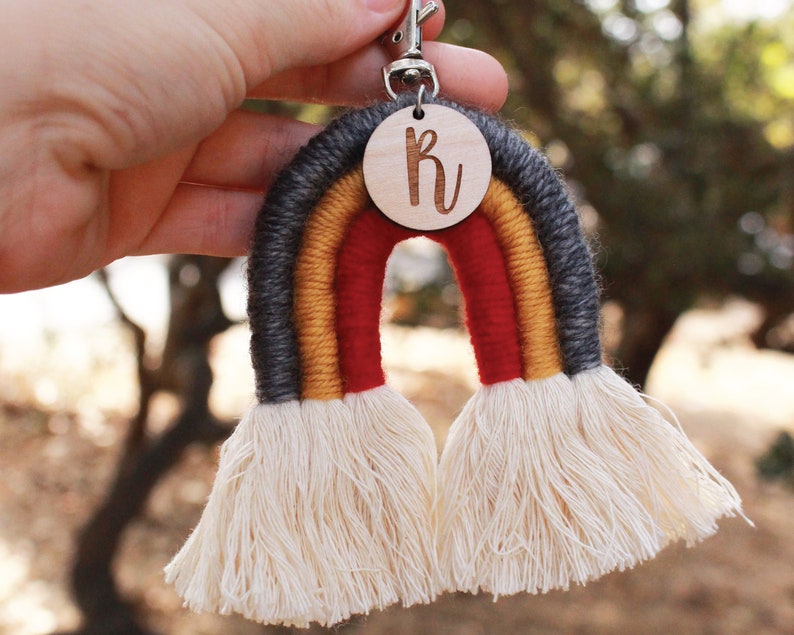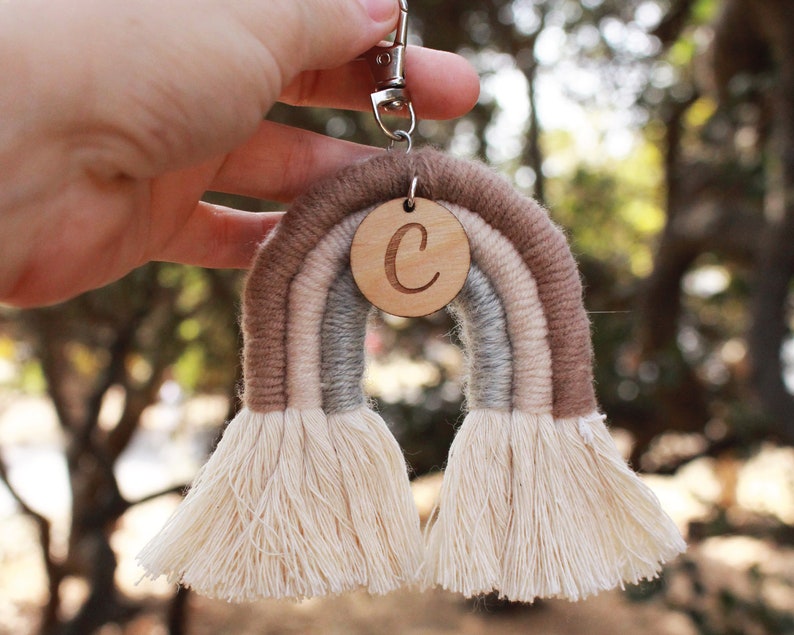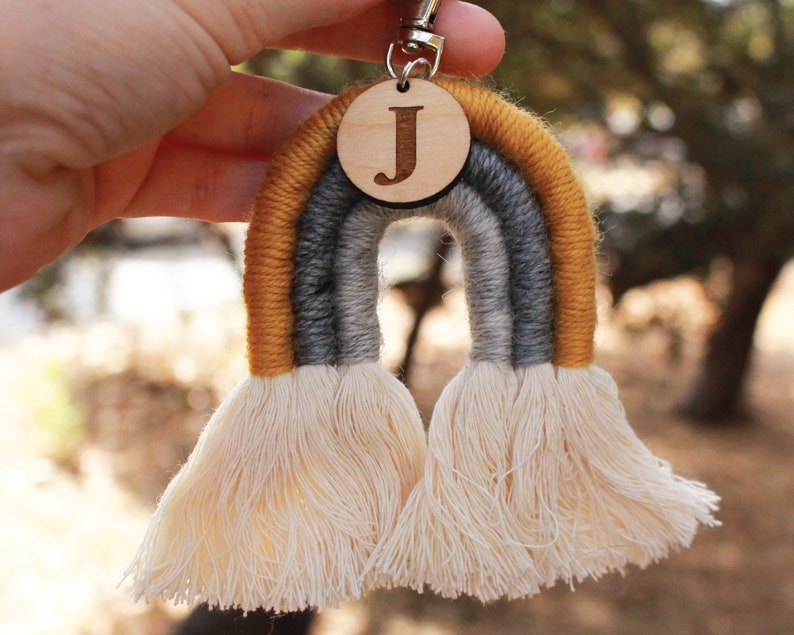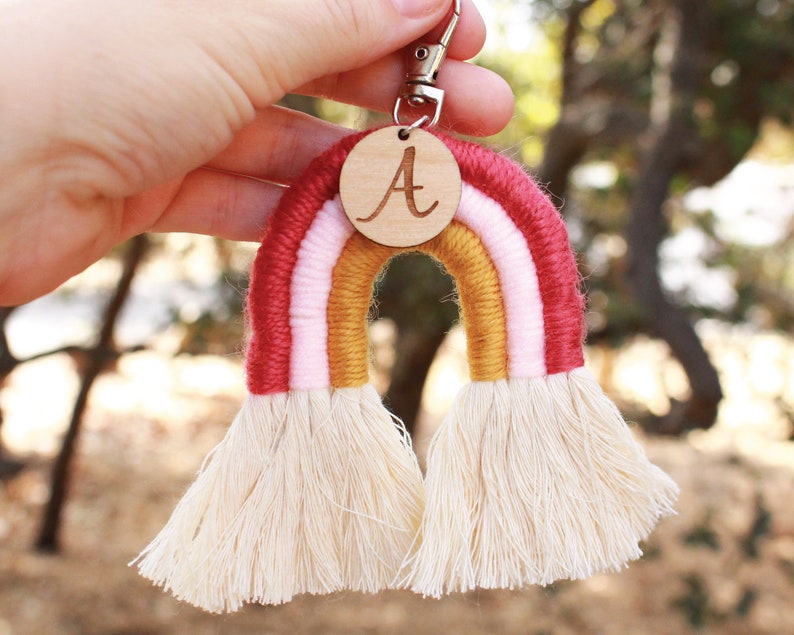 Macrame Rainbow Keychain, Personalized Rainbow Macrame Keychain
description

This Personalized Rainbow Macrame Keychain is going to be a cute and handy addition to your keys. This accessory is also a good idea as a gift to your friends for any occasion.

It can also be used as an accessory on your bag, or hung anywhere you like as a decoration!

Material: macrame, wood, keychain

Size: Rainbow is 3 * 3 inches

These key chains will take 5-7 days to process from the day that you ordered them!
shipping

Free shipping for orders over $49

You can choose the shipping method during checkout:

Standard shipping: $7.99

Arrives 7-15 business days after the production time

Express Shipping: $29.95

Delivery 4-6 business days after the production time
Macrame Keychain Store - For All Macrame And Keychain Lovers
Welcome to our Macrame Keychain Store. Macrame Keychains are cute and original addition to any set of keys, purse, backpack, clutch, or coin wallet, which are suitable for any occasion. Here delivers a large assortment of keychains made in macrame.
Both are handy and elegant. Our keychains are the perfect gift for friends and families. Choose from many shapes, styles, sizes, and colors to choose from. Depending on personal preference, you may have a good choice here that is both practical and aesthetic for daily use.
Macrame Keychains - Made Of "Macrame" And "Keychain"
Keychains that currently hold keys are an item that is never long misplaced by the owner. People sometimes attach their keychain to their belt (or belt loop) to avoid the loss or to allow quick access to it. Many keychains also offer functions that the owner wants easily accessible as well. These include an army knife, bottle opener, an electronic organizer, scissors, address book, family photos, nail clipper, pill case, and even pepper spray. Modern cars often include a keychain that serves as a remote to lock/unlock the car or even start the engine.
The word macrame is derived from the Arabic macrame, believed to mean "striped towel", "ornamental fringe" or "embroidered veil". Another school of thought indicates that it comes from Turkish macrame, "napkin" or "towel". The decorative fringes also helped to keep flies off camels and horses in northern Africa. Macrame is a form of textile produced using knotting (rather than weaving or knitting) techniques.
And now we use the techniques with our keychains which made Macrame Keychains.
Macrame Keychains - Practical And Aesthetic
Are you the type who is careful with your belongings, or more prone to losing them? Our macrame keychains may be just what you need.
The macrame keychains work double duty, keeping our necessities organized and within reach while serving as eye-catching personal talismans.
You can choose any color you like for your macrame keychain. Match it with your favorite boho bag or make a few different macrame keychains for your friends in all their favorite colors.
Our Recommendation:
DIY Macrame Keychain: These DIY Macrame Keychains are perfect options for those who fall in love with macrame and all the different things they can create with just a few knots! Match it with a boho bag, or make a few different macrame keychains for your friends. It is a great and quick macrame project to have some fun with!
Macrame Rainbow Keychain: Rainbows symbolize the end of a cold and dark rainy day with their beautiful colors bringing the promise of a bright new day, just like how we hope these Macrame Rainbow Keychains will bring you positive energy and happiness every time you see it!
Macrame Keychain with Beads: You can use your macrame key chain as a pretty purse accessory, to personalize your handbag (or backpack), or to make your keys stand out. To further customize your key chain, wooden beads with names are perfect gifts for friends and family.
Our Mission - We Promise
Our mission is to make it as convenient as possible for the clients and the community so that they don't have to work for it as much as they used to. We are committed that customer satisfaction always coming first, treating our customers with the utmost respect, and providing them with the highest quality service they deserve. We are always ready to help Macrame Keychain clients with any questions.